---
let us become legends
grande opening
Hunters RPG is officially OPEN!

Coincidentally right around the Hunters Moon. How Appropriate! We have diligently (and even casually) been building our ORIGINAL lore for characters, and now that we have completed the CORE races, we are ready to really start delving into the world. What Hunter's needs is YOU! You write the stories you want to write with characters and races with these unique twists to fall in love with this Supernatural Urban Fantasy setting.

I want to deeply thank the following member who submitted Lore for our Races: @doomkitty, @Renya, @KaePhoenix, myself, @Lady In Red, @Krissy the Fox , and @Ronin.

A HUGE and AMAZING Thank you to @Melissa for your GORGEOUS mini-profiles. I know there are a few things she wants to tweek still, but I love that every time I ask her for this insane favor she is so generous with her time and skill.

@KaePhoenix, Thank you for all the Advertising you have been doing to bring in more people and views. Hopefully, now we can live up to all your hard work of sharing this gorgeous place!

Go forth and sow chaos!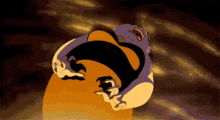 ~Seraphim